Balanced Offensive Formations

A new twist brought to a traditional, workhorse type formation. The wide receivers are flexed, allowing the outside receiver to go in motion to help power the run. The unusual shift of the backs forces defenses to make a tough decision: attack the traditional strong side with the TE, or go after "weak" side, with the backs shifted closer to the twin WRs?

Wiz Gun brings a sophisticated, motion-based passing attack to any team's offense. Nearly all plays are designed with the intent of moving the receivers around to create the best possible matchups and expose weaknesses in just about any defense. Opponents will be amazed at what they see and mystified in thinking of how to stop it.
A compact, flowing formation designed to force defenses into awkward positions or face difficult matchups. Scimitar emphasizes explosive passing and finesse in the running game. With an ordinary personnel package, this formation will be quite a surprise to unfamiliar opponents.

Quick Split combines solid speed with unusual quickness and versatility. The personnel may say "pass", but this formation may fool defenses with its flexible running attack, motion schemes and innovative blocking assignments.

Spades brings unusual deployment and matchups to a fairly ordinary personnel package. Two wide receivers, two backs and a tight end line up with speed on the right and power on the left. This layout causes problems for man defenses in particular. Mace is an innocent looking short passing play that can tear apart a defense's underbelly.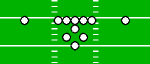 Compact formation designed for sophisticated trap-block running. Delay Sweep is the best big play running play I've ever created, it eats up defenses in base sets, and if your opponent cheats defenders to the wrong side you can often take it all the way.

A speed trapping formation designed to keep defenses off balance. The compactness creates man coverage difficulties, while the overall speed and unique alignment allows for trap blocking and sharp cutback runs by the back. HB Blast sucks defenders inside while providing seal blocks to the outside.
A standard single back formation intended for balanced passing and quick running. Quick execution for most play makes it an excellent formation against heavily blitzing opponents. Maverick is a dynamic passing play with multiple quick reads.

A compact, pure passing formation emphasizing dual tailbacks and designed to create matchup problems quickly after the snap. Features Flood Left SE Iso, the perfect scoring play close to the goal line.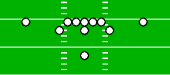 The Delta formation is a modification of Singleback-Big. The tight ends are pulled away from the line, enabling quicker motion, and the receivers are brought in closer. This deployment allows the receiver and tight end on either side to run routes complimentary to each other while adding the running back into the mix. Scythe overloads the left flats with swing routes by the left TE and the RB, providing an excellent chance to run with a lead blocker after a catch.

Compact formation designed for short yardage situations. Features simple but reliable running and passing plays. When you absolutely need to convert 3rd or 4th and no more than 10 yards, Reflex is one of the best plays you can ask for.

J Form-Normal is a cross between a standard I Formation and the split backs Pro Formation (which oddly does not seem to be in any of the recent Madden games). The fullback and halfback are split behind the quarterback like in the Pro formation, but the fullback is up close while the halfback is deep like in an I formation. This unique running back set allows for new running plays to be developed while leaving the formation excellently balanced for both running and passing.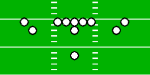 Funnel moves tight ends on either side of the line to the outside, lined up next to the wide receivers. This design temps blitzers and pass rushers to come straight upfield, leaving the halfback to work the flats with swing routes, screens and toss plays. The wideout/tight end combo on either side can provide blocking or run complimentary receiving routes. Funnel Screen is a great illustration of these qualities.
---
Contact Arkaein with any comments or questions regarding the Monstrous Madden Playbook.