Speed Offensive Formations
A 5 WR pure passing set that is unlike anything you've ever seen. The QB sits in a super deep shotgun, allowing him to scan the whole field and have time to react to blitzes, while receivers lined up in two columns create matchup nightmares for man coverage. Routes are run in almost every direction imaginable. The Nebula formation is chaos tamed.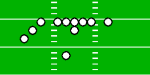 Wyvern might be called the Axe formation's smaller but quicker little brother. Three wide receivers on the left side provide blocking for runs and a lot of firepower in the passing game. The RB is offset to this strong side to get out of the backfield quickly on pitches and swing passes. Spinout is a deadly passing play that shows off Wyvern's speed.
4 WR, pure passing set designed to stretch the opposing defense to its limits. Features Undercuts, perhaps the ultimate medium-range passing play, and Deep Outs, an excellent choice on 3rd and 10.

The classic 4 wide, single-back formation. Quick Slants is a great play when you need to slow down an opponent's blitzes.

A pure passing set which balances 3 wideouts running pick-and-roll style plays on the left with a fourth receiver in isolation on the right.
You've seen trips, but how about four WRs lined up on one side? 4 Left forces defenses into awkward formations and uses criss-crossing patterns to create openings. This set includes Jailbreak Option, a play specially designed for the skills of QB Michael Vick of the Atlanta Falcons.
Max Spread moves four receivers to nearly the most extreme positions the width of the football fields allows. Two split ends out wide and two flankers deep in the backfield create possibilities that simply do not exist in traditional formations. Antigravity is one such play, a deep passing attack that seems to defy the laws of physics.

Dynamo is a formation designed for all-out aerial attack. Four wide receivers in a bunch formation to the left draw most of the attention while an isolated receiver works in space on the right side. Matched with a QB possessing good mobility and a quick release, Dynamo can unleash nearly unmatched levels of firepower. Havoc is a play that lives up to its name for opposing defenses.
Another 4 wide receivers on one side set designed for attacking down the field. The bunch formation combined with underneath and crossing routes creates big headaches for man coverage. Double Rub features dual paired crossing routes that can twist DBs into knots.
---
Contact Arkaein with any comments or questions regarding the Monstrous Madden Playbook.