All Defensive Formations
Popular in run dominated high school leagues, the 5-2 defense can also work in the NFL for teams with good depth at line and CBs able to cover in isolation. A great defense for shutting down the run while keeping enough DBs in to defend the pass in the open field. Slant Right Man can handle runs in any direction by filling every gap.
This new base defense is tough as nails against the run, with linebackers drawn in tight and cornerbacks using inside technique to fight off blocks. After frustrating your opponents running game, calling Zone Roller can sucker the QB into a bad throw, showing toughness against the pass as well.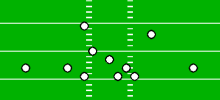 A solid base formation with an unconventional front seven. A variety of blitz and coverage schemes make 4-3 Stagger extremely versatile as well as steady against both run and pass. Zone Blitz is a great choice for attacking offenses where they don't expect it.
My most disruptive defense yet. A bit of a hybrid of 3-4 Assault and Edge Nickel, Peregrine 3-4 plays up tight and in the face of the offense, roughing up wide receivers while applying pressure. Harassing quarterbacks, forcing turnovers, and generating tackles for loss is second nature to this set. Use WR Shutout to take your opponents wideouts out of the game against basic offensive formations.
An alternative base formation which adds speed over 4-3 Stagger, keeping a little more in line with the general flavor of my defensive schemes. By replacing a defensive tackle with a fourth linebacker we add the capability to use more creative blitzes and better pursue from side to side. ILB Blitz has rapidly ascended through my playbook to become one of my favorite base defense plays.
Edge Nickel brings every defender close to the line of scrimmage to fill every gap against the run and disrupt short passes while using overall speed and multiple deep zone coverages to prevent big gains through the air. Big plays can be made in bunches but good discipline is required to ensure containment. 3 Deep Close is my base play in the formation, rock solid against both deep passes and runs to the outside.
Strike Nickel is an attacking Nickel formation. It features aggressive and unpredictable blitzes with mixes of zone and man coverages. It's primary mission is to stop the pass by pressuring the QB but it does a good job of stopping the run from lighter offensive formations as well. Zone LB Man puts the linebackers in man coverage under a zone umbrella, able to pursue running backs and attack short pass patterns.
A slightly quicker version of traditional Dime defenses, based around three down linemen and two linebackers rather than four linemen and a single linebacker. Though primarily a passing defense, a variety of blitzes, particularly utilizing the slot cornerbacks, can provide steady defense against the run versus certain formations. Man Lock is a solid choice against any type of pass, with 5 defensive backs in man coverage and the Free Safety playing centerfield against the deep pass.
Just about the fastest formation you could ever want. A Quarters formation with two linebackers and only two down linemen, it allows defenses to swarm and fly to the receivers or ball carrier. In Madden 2003 this formation could even stand up to the run by aggressive blitzing, especially by the slot corners, but now it's primarily a pass defense formation. Spin Zone is my favorite play when the offense has to throw, creating confusing reads and forcing interceptions.
When you need to stop the offense from gaining even another inch, Fortress is the defense you want. It's a slightly spread out version of the standard goal line formation that includes a few plays to use in short yardage situations in the open field. Five down linemen are separated by gaps just big enough for three linebackers and a safety to shoot through, while two cornerback patrol the outside. If you really need a stop on the next down, Stuff may be the call to make.
This formation eschews any form of pass rush for maximum possible coverage ability. Eight defensive backs with three linebackers provide tremendous speed and the ability to break up just about any deep pass. With no way to defend the run this formation is intended only for situations when you know your opponent needs to throw the ball deep. Mega Prevent is the ultimate one shot prevent defense.
---
Contact Arkaein with any comments or questions regarding the Monstrous Madden Playbook.